With the new macOS Sierra, today apple released Server update 5.2. App name was refreshed to new macOS Server.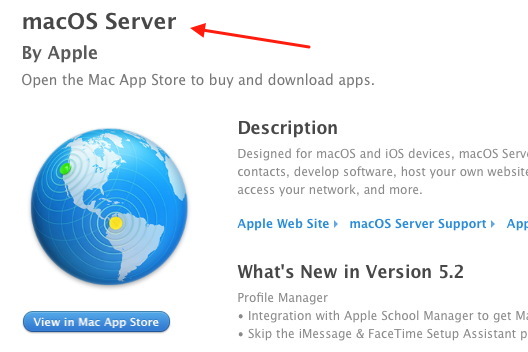 As previously reported, system requirement is OS X 10.11.6 or later
Apple security content of macOS Server 5.2 – Apple support link
App store link
What's new in this release
Profile Manager
• Integration with Apple School Manager to get Managed Apple ID and class information
• Skip the iMessage & FaceTime Setup Assistant pane in iOS 10
• Skip the Siri Setup Assistant pane in macOS Sierra version 10.12
• Choose default app for audio calls for Contacts, Exchange, and Google accounts
• Set Bluetooth Modification restriction on supervised devices
• Set Apple Music; iCloud Keychain Sync; and Sharing to Notes, Reminders, or LinkedIn restrictions for macOS Sierra version 10.12
• Set new IKEv2 authentication method option or specify IPSec disconnect on idle timeout for VPN
• Restrict Cisco fast lane Quality of Service marking or disable captive network detection for Wi-Fi networks
• Restrict unlocking a Mac using Apple Watch
• Configure IP firewall

Caching Server
• Enhanced control over peer replication

SMB
• To improve security, SMB connections now require signing by default.

NFS
• AES is now a supported encryption type for Kerberized NFS

Xsan 5
• macOS Sierra and Server 5.2 include support for the Xsan 5 file system. Xsan 5 is compatible with the Quantum StorNext 5.3 file system.
• See Xsan Compatibility information before upgrading to Xsan 5.