If you're a fan of your server log, you probably noticed some strange reference (error 404) reporting http://yoursite.com/apple-touch-icon-precomposed.png or and /apple-touch-icon.png. This is a "Touch icon".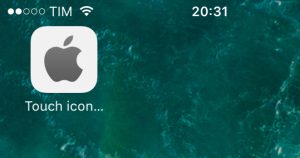 Touch icons are the favicons of mobile devices and tablets (see figure next).
Apple defines 4 icons: 2 for iPhone (non-retina and retina) and 2 for iPad (non-retina and retina). However, every iOS update, icon sizes changes.
How to solve error access to apple-touch-icon?
Realfavicongenerator website resolves this kind of problem. You have just to choose a picture and the site will do the next for you. It will create apple-touch-icons and code to put inside your website.
You have to extract the package supplied in the root of the web site (http://mysite.com/favicon.ico). Then you have to insert the code in the <head> section of the web pages.